Food Forest Design and Layout
Once you've made your wish list and done some research on the plants you want to utilize in your food forest you're ready to work on design and layout.  Here we'll talk about making a simple checklist, or utilizing a matrix for more complex plantings, and look at plant spacing and consider whether to irrigate or dry farm your food forest.
Make a Checklist or Matrix
As we've already mentioned, nothing is more frustrating than investing years into growing perennial fruit and nut trees only to find you overlooked a necessary detail, like providing the correct pollinizer, or choosing the right variety for your climate, or making sure your harvest is spread throughout the season rather than all at once.  To avoid these pitfalls, make a list of all of the varieties you intend to plant and make a checklist with all of the details covered under research:
Ripening
Rootstock
Climate Zone 
Microclimate
Pollination
Chill Requirements
Yield When Mature
Insectary
Nitrogen Fixing
If you have a relatively simple list then you can do this with pen and paper. For more complex plantings you may wish to create your own food forest matrix.  Here's an example of a plant matrix from the book "The Future is Abundant" published by Oregon Tilth (now out of print):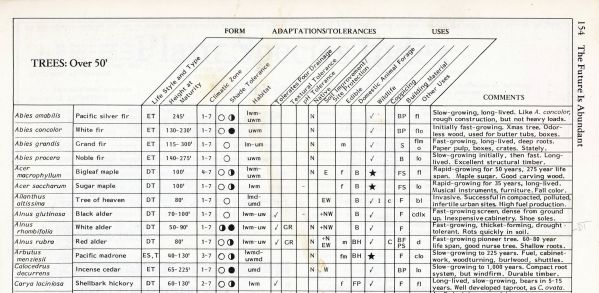 You can develop your own plant matrix for designing your food forest.  
Here is a Excel template that we've developed that incorporates all of these design factors into one spreadsheet
.  You'll need at least some experience with spreadsheets to navigate your way through this and it may seem overwhelming at first, but it is a solid way of making sure you have covered all of your bases before planting.  Making a matrix will consume a lot of time for your first project, but then it will serve as a database that you can build and expand on in future projects.  If you plan on designing several food forests then eventually this information will be second nature and you'll come to rely on the matrix less and less.  
Plant Spacing 
How close you place your plants will depend on whether you want an open canopy, where light can penetrate for understory crops, or a closed canopy that limits light penetration and eliminates weeds in the understory.  First, determine the width of the canopy of each plant, you'll find more details on this at the
MKWC Foodsheds webpage on Fruits, Nuts and Berries
- use the links for specific fruits to find the width in the "At a Glance"  chart.  If you want your plant canopies to touch, then use the canopy width as your distance.  For instance, pears on semi-dwarf OHxF333 rootstock are 7-10 feet wide when mature, so for a closed canopy you would plant them 7-10 feet apart.  Space them further apart to accomodate undersory crops, tighter if you want to close the canopy and discourage undergrowth.  Cutting circles to scale and laying them out on a plot map is a great exercise.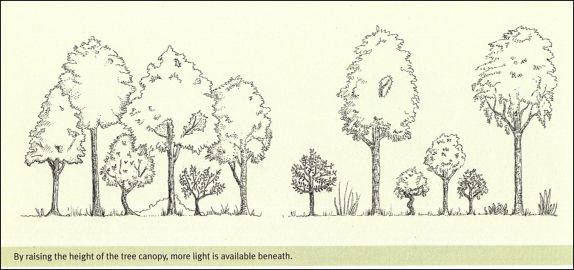 Climate Zones:

European: USDA zone 4 –9;  Sunset zones 2-9, 14-18, 32-39

Asian - USDA zone 5-10; Sunset zones 3-12, 14-21, 32-41.

Chilling Requirement:

European: 600-1500 hours                

Asian Pear:  400-600

Pollination:

Plant two varieties (European and/or Asian) for pollination

Rootstocks:

Pyrodwarf

OHxF 333

Seedling

Height:

8-13

12-16

14-22'

Width:

5-7

7-10

8-12

Years to First Fruit:

2-3

2-3

3-4

Life Expectancy:

20 years +

35 years +

50 years +

Yield when mature

30-40 LB:

50-60+ LB

60-75+ LB
Irrigation or Dry Farming?
Now is the time to decide if you are going to irrigate your food forest or not.  Depending on your soil, rootstock, and location, most fruit trees can be dry farmed (non-irrigated) when mature, but all plants will need consistent water for at least the first two seasons.  Lighter, sandy soils will hold less water and require more irrigation than heavier soils.  A hot, sunny, interior site will need more water than a cool coastal site.  Harmony Farm Supply has excellent instructions on how to desgin a drip irrigation system.  The following charts illustrate how water needs will vary with soil type and location: