Attracting Beneficials
Now that you've planned the edible aspect of your forest farm its time to consider building in some pest control.  By including insectary plants - those that attract, harbor and feed beneficial insects, you'll be assuring a balance of beneficial predator and parasatoid species that will help to keep plant pests in check.  Here are two excellent pdf's you can read and download on attracting beneficial insects:
Attracting Beneficial Insects to the Garden with Beneficial Flowers
 is written by Richard Merrill, Professor Emeritus and former Director of the Horticulture Department at Cabrillo Community College in Santa Cruz, who has done extensive research on beneficials and their relationship to garden ecology.  This resource that provides a solid overview of the ecology of beneficial insects and how to attract and support them in your garden. Published by Renee's Garden. 
Practical Guidelines for Establishing, Maintaining and Assessing the Usefulness of Insectary Plantings on Your Farm,  by Mario Ambrosino of the Integrated Plant Plant Protection Center (IPPC) in Corvallis Oregon, provides forms for tracking and evaluating beneficial insects on your own site.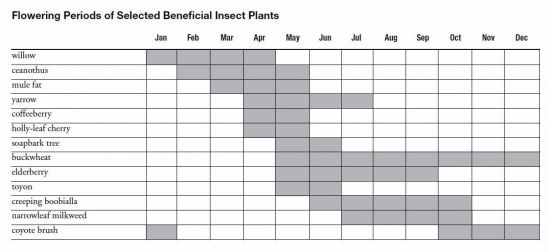 table by Cornflower Farms